Crimp vials
Our experience has consolidated Tecnoglas, S.A. a reference in the production of crimp vials in the pharmaceutical market all around the world.

We can supply any kind of neutral vial (transparent or amber) based on most known standards in the market like DIN/ISO 8362, WI, FEA, .. and any other specific vial designed by our customers according to their production needs upon the biggest quality guarantees. All our productions can be made ready for lyophilisation.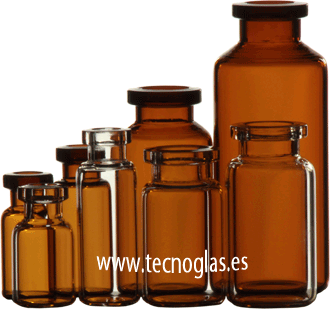 Raw material used in the pharmaceutical container is 1st hydrolitic class glass tubing transparent or amber, produced in Europe or USA and always according to our customer specifications.

The acceptance criteria of our production is based in DIN 2859-1 with a strict control of defects during all the production, however our quality system allow us to adapt our acceptance criteria to specific AQL´s defined in our agreed customers specifications.
The standard capacities of vials DIN can be found in the following link:
DIN/ISO 8362